Best Vitamin C Supplement Reviews and Prices of 2021
Vitamin C is an essential nutrient which cannot be produced by humans (
Nutrients
. 2017).
Because your body doesn't produce or store it, you need daily vitamin C for continued health.
Vitamin C
may be one of the most well-known immune nutrients that protect against immune deficiencies and which supports the prevention and recovery from the common cold and upper-respiratory issues, and also protects your cardiovascular system, eyes, skin, and other parts of your body.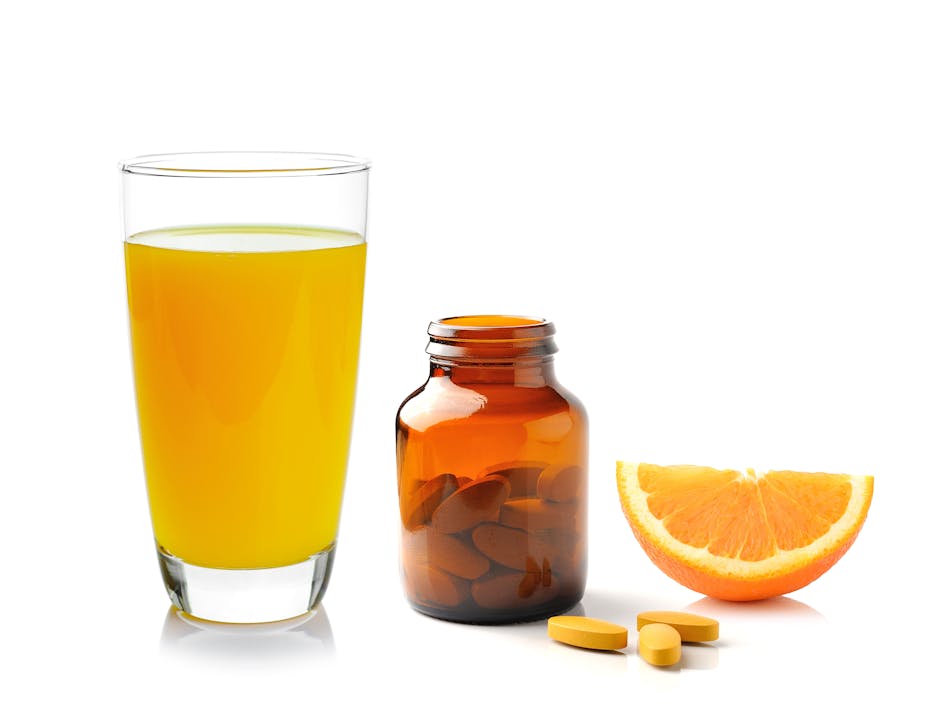 SOMMAI/ Shutterstock
Vitamin C is a particularly unique nutrient because it also functions as an antioxidant that protects your cells against potential damage.
As of December 2020, there are 19 studies that have been launched to investigate the benefits of vitamin C against COVID-19. You can review the status of these trials on
clinicaltrials.gov
.
Vitamin C might help prevent COVID-19 and also lessen the inflammatory reactions behind some severe COVID-19 cases, according to a
review of research on the topic
published in the latest issue of the journal Nutrition.
Vitamin C can be found in a variety of whole, plant-based foods like citrus fruits, bell peppers, strawberries, and broccoli. Obtaining nutrients from whole foods is always the best approach, but if you have difficulty meeting your nutrition needs for any reason, a supplement may be necessary.

The supplements on this list were chosen based on quality, manufacturing standards, usability, and price.


Here are the best vitamin C supplements of 2021.


1–2. Best capsules
Capsules are the most popular form of vitamin C supplements. These are among the best on the market.



1. Integrative Therapeutics' Buffered Vitamin C
Price: $14.40 ($0.20 - $0.40 per serving) >
Buy Now at Amazon
More than 500 customer reviews and a 4.8 out of 5 overall rating on Amazon.
Integrative Therapeutics is a supplement company that has held a strong reputation for quality for over 3 decades. Each capsule provides a dose of 1,000 mg of vitamin C with added minerals that may improve digestive tolerance. This feature makes it a great option for anyone with a sensitive stomach or history of difficulty tolerating nutritional supplements (
PubMed
).
Integrative Therapeutics holds itself to some of the highest ingredient sourcing and manufacturing standards in the industry, so you never have to wonder whether you're getting a good product.
Their manufacturing facilities are certified by NSF International, a third-party regulatory agency.
2. Kirkland Signature's Vitamin C
More than 2,000 customer reviews and a 4.8 out of 5 overall rating on Amazon.
Kirkland Signature provides an affordable alternative to expensive, high-end supplement brands without sacrificing quality.
Each of their vitamin C capsules contains a 1,000 mg dose of vitamin C and citrus-derived flavonoids for an added antioxidant boost.
Kirkland Signature's vitamin C capsules are verified for purity and quality by United States Pharmacopeia (USP), so you can rest assured you're getting exactly what the label claims.
3. Best chewable
3. NOW Foods' Chewable C 500
Price: $9.00 (under $0.20 per serving) > Buy Now at Amazon
More than 490 customer reviews and a 4.7 out of 5 overall rating on Amazon. If you're not a fan of swallowing pills, NOW Foods' chewable vitamin C tablets may be the product for you.
NOW Foods is a reputable brand that produces a variety of affordable, high quality nutritional supplements.
Each orange-flavored tablet provides a 500-mg dose of vitamin C and contains just 1 gram of added sugar. They're also 100% vegan and free of major allergens.
NOW Foods prides themselves on their meticulous testing protocols. Each supplement is tested in-house for purity and potency, and all of their manufacturing facilities are certified by the Food and Drug Administration (FDA).
4–5. Best Gummies
Gummy vitamins are one of the hottest trends in nutrition supplements — and understandably so. Whether you're a kid — or a kid at heart — taking your vitamin C has never been easier or more delicious.
However, although gummy vitamins are convenient and taste great, they should not be confused with candy.
It's important that you don't exceed the recommended dose, as too much vitamin C could lead to unintended side effects. Like other supplements, be sure to store them away from little ones to avoid a potential overdose.
4. Nordic Naturals' vitamin C gummies
Price: $18.66 ($0.20 - $0.40 per serving) > Buy Now at Amazon
Nordic Naturals' vitamin C gummies are made from high quality, natural ingredients and suitable for adults and children over the age of 4. Each 2-gummy serving contains 250 mg of vitamin C and 4 grams of added sugar. The orange-flavored gummies are sweetened with cane sugar and colored with natural fruit and vegetable juices. They don't contain any artificial sweeteners or flavors and are gluten- and dairy-free.
Nordic Naturals' vitamin C gummies are third-party tested for purity and potency, so you know you're getting what you have paid for.
5. Carlson Labs' Kid's Vitamin C Gummies
Carlson Labs' vitamin C gummies for kids are a great option if you're looking for a quality supplement specifically designed with your children in mind.Each orange-flavored gummy provides 125 mg of vitamin C and contains only 2 grams of added sugar. They don't harbor any artificial colors, sweeteners, or preservatives and are 100% gluten- and soy-free.
When it comes to quality, Carlson Labs has been an industry leader since 1965. All of their products are manufactured in an FDA-certified facility and come with a purity and potency guarantee.
Liquid supplements are a convenient option for anyone looking for a supplement that can be easily mixed into beverages and absorbed quickly.
6. Pure Encapsulations' Liposomal Vitamin C Liquid
Price: $35.60 (over $0.40 per serving) >
Buy Now at Amazon
Pure Encapsulations' liquid vitamin C is made with a unique, liposomal form of vitamin C that's encapsulated in sunflower oil.
Research suggests that liposomal forms of vitamin C may boost your body's absorption, so you get more out of each dose (
Trusted Source
).
Each teaspoon (5 mL) provides 1,000 mg of vitamin C and doesn't contain any added sugars or artificial sweeteners.
All of Pure Encapsulations' products are certified gluten-free and third-party tested for quality, purity, and potency.
7. Garden of Life's Organic Vitamin C Spray
Garden of Life's vitamin C spray is made from a variety of 100% organic, whole foods like strawberries, blueberries, and tart cherries.You'll receive a 60-mg dose of vitamin C in every 5 sprays, and it doesn't contain any added sugar or artificial sweeteners. It comes in two flavors and is suitable for adults and children over 4 years of age.
The dose of vitamin C in this product is lower than many traditional supplements, making it a great option for anyone who eats a variety of vitamin-C-containing foods but still needs some extra help filling in potential nutrient gaps.
All of Garden of Life's products are third-party tested for quality and purity, and its manufacturing facilities are FDA certified.
8–10. Best Vitamin C Powder Supplement
Powdered supplements are a great, flexible option. Whether you plan on drinking them mixed into juices and smoothies or want to fill your own capsules with customized doses, powdered vitamin C is the way to go.
8. Swanson's Vitamin C Powder
Price: $17.71 (under $0.20 per serving) > Buy Now at Amazon
Swanson's vitamin C powder contains nothing but 100% pure, powdered vitamin C.
It dissolves easily into almost any liquid, and you don't have to worry about any added fillers, sweeteners, or preservatives.
Each scoop provides 1,000 mg of vitamin C, but you can tailor the serving size to fit your needs.
When it comes to purity and quality, Swanson holds themselves to exceptionally high standards. All of their supplements undergo in-house and third-party testing, so you can rest assured you're getting a great product every time.
9. Bulk Supplements' Vitamin C Powder
Price: $19.96 (under $0.20 per serving) > Buy Now at Amazon
Bulk Supplements' vitamin C powder is pure vitamin C without any added ingredients, such as preservatives, sugars, or fillers.
Each scoop provides a 750-mg dose, but like other powdered supplements, it's easy to adjust the serving to meet your needs.
All of Bulk Supplements' products are produced in an FDA-approved facility and third-party tested for purity and potency.
10. Emergen-C 1000mg Vitamin C Powder
Price: $13.48 (over $0.40 per serving) > Buy Now at Amazon
More than 14,000 customer reviews and #2 in Vitamin C Supplements of
Amazon Best Sellers
.
About this item
Includes 30 single-serving packets (0.32 oz. each) of Emergen-C Original Formula in Super Orange flavor
Each serving provides daily immune support* with more Vitamin C than 10 oranges (Based on the USDA.gov nutrient database value for a large, raw orange).
Also contains B Vitamins, Electrolytes, and other Antioxidants like Zinc and Manganese
Flavored vitamin mix is made with natural fruit flavors for a delicious Super Orange taste
Vitamin C drink mix is a powder that dissolves quickly in water; it's refreshing and caffeine-free
Enjoy Emergen-C Original Formula Vitamin C supplement every day for routine wellness
Emergen-C Original Formula is also available in gummy and chewable forms
When buying, please check whether the product is "Ships from and sold by Amazon.com" just below the product price to make sure you are receiving this product from the manufacturer of Emergen-C to ensure proper product dating.
How to choose
Selecting the right vitamin C supplement depends on a variety of factors, including the form, quality, dose, and price. There are many forms of vitamin C available (ascorbic acid, sodium ascorbate, calcium ascorbate, liposomal vitamin C etc.) but there is not much evidence that one form is much better than another.
The ascorbate forms may be easier on your stomach, but you will still run a risk of developing loose stools at too high a dose.
You can also start by considering how you'll be using the supplement. For instance, if you prefer to take a pill, you'll want to check out encapsulated vitamin C supplements.
If you don't like swallowing pills or want to mix it into beverages, your best bet is to consider liquid or powdered supplements.
Next, you want to check the supplement's quality. Evaluate whether a brand is reputable by exploring their ingredient sourcing and manufacturing standards. A good product will also be tested by third-party organizations, such as USP, Consumer Labs, or NSF International.
Take a look at added ingredients, too. If you're trying to limit your intake of added sugars, you want to opt for a supplement that doesn't contain sugar.
Another factor to consider is the dosage. The recommended daily amount of vitamin C for adults is 90 mg for men, 75 mg for women, and up to 120 mg for women who are pregnant or breastfeeding. However, certain medical conditions may require that you take much higher doses (NIH).
Children have lower vitamin C requirements, which range from 25–75mg per day, depending on their age. However, it's not generally advised to give children a vitamin C supplement unless their pediatrician has recommended it.
Note that the Tolerable Upper Intake Level (UL) for vitamin C for men, as well as women ages 19 and above, is 2,000 mg. Meanwhile, the UL for children ranges from 400–1,800 mg, depending on age. Daily intakes at or below these amounts are unlikely to result in any adverse health effects (NIH).
Vitamin C supplements come in a wide range of dosage options. If you're looking for a high dose, it may be more economical and convenient to find a concentrated supplement. This way you won't be stuck consuming multiple servings of a lower dose option.
Generally, high doses of vitamin C are unnecessary and could contribute to harmful side effects. Only consume high doses if your healthcare provider recommends doing so.
Finally, you want to consider your budget. Some professional-grade brands can be expensive, but keep in mind that a higher price doesn't necessarily mean a better product. There are plenty of high quality options available at various price points.
Can Vitamin C prevent Coronavirus?
A review, published December 7, 2020, in the journal Nutrients, recommended the use of vitamin C as an additional therapy for respiratory infections, sepsis and COVID-19.
In December 16, 2020, Rob Verkerk, Ph.D., founder and scientific director of the Alliance for Natural Health, announced the launch of an
international vitamin C campaign
in response to the Nutrients review, which "puts all the arguments and science in one, neat place."
However, large controlled studies demonstrating vitamin C's effectiveness in COVID-19 are still lacking. There are many such studies underway and you can review the status of these trials on
clinicaltrials.gov
. As of January 2021, more than 50 studies have been launched to investigate the benefits of vitamin C against COVID-19.
The
National Institutes (NIH) Panel
has determined that there are insufficient data to recommend either for or against the use of Vitamin C for the treatment of non-critically ill COVID-19 (last updated November 2020).
At the Cleveland Clinic, researchers are enrolling people into a
study
to see if vitamin C or zinc — or a combination of the two — can reduce the duration of COVID-19 symptoms. Patients will be given the supplements after they have tested positive for COVID-19.
Currently, no definitive evidence supports the use of oral vitamin C supplements to prevent COVID-19.
Vitamin C may help shorten the duration and severity of colds caused by other viruses, but this is no guarantee that it will have the same effect on the coronavirus that causes COVID-19.
Additionally, vitamin C is a water-soluble vitamin. It dissolves in water, meaning that excess amounts aren't stored in your body but instead eliminated through your urine. Taking more vitamin C does not mean that your body is absorbing more (
nih
).
High dose vitamin C supplements may even cause diarrhea, as they can signal your body to pull water out of the cells and into your digestive tract (
NIH
).
Moreover, although high dose vitamin C appears promising for COVID-19 treatment, these doses were exceptionally high and given via IV — not taken orally. Additionally, it was only given in cases severe enough to require hospitalization.
Your best bet is to eat a diet that's full of a variety of fruits and vegetables, which naturally provide all the vitamin C a healthy person needs — along with many other nutrients and antioxidants.
Possible side effects
Although vitamin C is a natural compound, getting too much of it can cause uncomfortable and potentially serious side effects.
Some of the most common reported side effects include headaches, flushed skin, nausea, and vomiting (
NIH
). Consuming high doses of vitamin C for prolonged periods may also increase your risk of kidney stones (
NIH
).
Always consult your healthcare provider prior to adding any nutritional supplement to your routine.


Conclusion
Vitamin C is an essential nutrient that plays a diverse role in keeping your body healthy. Although vitamin C deficiency is rare in developed countries, it can cause serious health problems that, if left untreated, could be fatal.If you have trouble getting enough vitamin C from your diet, supplements are a great option. They come in a variety of physical forms, dosages, and price points.
That said, many vitamin C supplements in the market are above the US RDA. It's important to seek a doctor's advice if you intend to take high dose vitamin C on a long term basis. To be on the safe side, you may also request for your kidney functions to be monitored.
Always consult your doctor prior to adding any new supplements to your health and wellness regimen.