12 Best Baby Diapers of 2023 - Prices and Reviews
Babies go through a lot of wet and soiled diapers during those first few weeks. To prepare for this phenomenon, most parents build a stockpile of diapers before baby arrives. This can be an overwhelming task for both seasoned and first-time parents, and there are many factors to consider when stocking up, such as baby's weight, diaper fit, and finances.
Your baby may require about 8 – 10 diapers a day. Therefore, the cost could be a burden to you. To help you choose the right diapers brand for your baby, we have shortlisted the best baby diapers you can buy today; categorised by brand.
1.
Rascal and Friends Diapers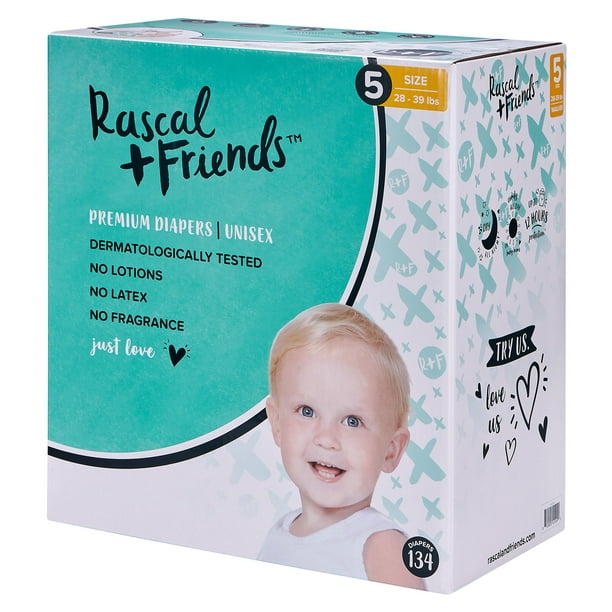 Features
– Stretchy High Back Waistband
– Absorbent 3D Core
– Soft Leg Cuffs
– Breathable Backsheet
– Wetness Indicator (Found in size 1 and 2)
– Double Leak Guards
– Unique Deep Pocket
– 3 Layers of Protection
– Strong Grip Tabs
Are rascal and friends diapers eco friendly?
The fact that Rascal + Friends Premium Diapers are free of harsh poisons is clearly their key selling feature. Also their fancy pants design makes the diaper so soft and absorbent!
However, Rascal and Friends are not eco-friendly since they are created with fluff pulp in the core and plastic in the inner and outer layers.
– Polyproylene fibers are used for the top and back sheets.
– Fluff pulp and traditional SAP are used for the absorbent core.
If you are looking for eco friendly diapers, read more: Best Eco Friendly Diapers

Rascal and Friends vs Huggies


Price: Rascal and friends is more affordable than Huggies.

Absorbency: Many customers find Huggies are better for night time absorbency, Huggies can holds more. Rascals & Friends okay for childcare but need to change more often with that brand.

Flexible: Customers said rascal and friends diapers are more stretchy than Huggies
Price
: Rascal and friends diapers is affordable than Pampers.
Absorbency
: Some customers say that Pampers cruiser and pampers Swaddlers are more absorbent than Rascal and friends diapers.

For sensitive skin
: Few customers said that Rascal and friends diapers are not suitable for babies with really sensitive skin. Pampers are better for babies with sensitive skin.
Read more: Pampers Baby Diapers Reviews
2. Huggies Little Snugglers Baby Diapers

Huggies Little Snugglers vs Huggies Little Snugglers Plus
4.6 out of 5 – 8,451 global ratings