8 Best Nasal Spray for Kids 2022
Nasal sprays are commonly used by parents to help their kids when they are congested and experience a blocked nose. Although nasal sprays are available over-the-counter, it is critical to understand which ones are safe based on the child's age and overall health.
Types of Nasal Sprays
a. Nasal Steroid Sprays
This spray usually used for the first line of allergy treatment and work by reducing inflammation in the nasal passages. Most Nasal Steroid Sprays are available over-the-counter, however, best to use it as directed by a doctor. You should not use them beyond the permitted time.
The following drugs are commonly found in nasal steroid sprays:
Flunisolide
Propionate Fluticasone
Ciclesonide
Budesonide
Diproprionate Beclomethasone (dry nasal spray)
b. Nasal Antihistamine Sprays
These sprays are typically prescribed for allergies and are mainly used to treat runny nose. They often leave a bitter aftertaste in the mouth.
The antihistamine sprays contain the following drugs.
Azelastine
Olopatadine
c. Anticholinergic Nasal Sprays
They reduce nasal discharge in children with both allergic and non-allergic rhinitis, however it can cause dry mouth and unpleasant taste.
Anticholinergic nasal sprays often contain Ipratropium Bromide
d. Mast Cell Inhibitors
Cromolyn sodium is a mast cell inhibitor that relieves nasal congestion, sneezing, and runny nose symptoms. The most prevalent side effects include nasal burning and an unpleasant taste in the mouth.
e. Nasal Saline Sprays
These are widely available and considered to be safe for children. However, before purchasing any OTC saline drops, ask your doctor because they may include additional medications.
Do not give your kids any non-prescription drugs or sprays. Always use a nasal spray that has been prescribed by your doctor and follow the instruction.
How to Use Nasal Spray for Child?
Watch "
Helping Your Child Use Nasal Spray
" on Youtube
Is There Any Side Effects of Nasal Spray for Children?
The following are some of the possible nasal spray adverse effects in children:
Medication that drips down the throat and irritates the throat
Unpleasant flavor
Dry nose
Headache
Sensation of burning
Nosebleeds
When administering the nasal spray, keep the kid in the proper posture to avoid bitter taste and medicine running down the throat.
Nasal sprays commonly don't cause any side effects. But I f your kid experiences allergic symptoms including rash, itching, shortness of breath, swelling, severe dizziness, or nosebleeds, or any other uncommon symptoms, stop using it and consult your healthcare provider.
Best Nasal Spray for Kids
1. Little Remedies Sterile Saline Nasal Mist, Safe for Newborns
Buy on Amazon
Little Remedies Sterile Saline Mist is a drug-free and preservative-free product which helps loosen mucus secretions to aid removal from the nose and help little ones breathe easy. From the #1 pediatrician-recommended Children's Nasal Spray brand*, Little Remedies Sterile Saline Mist is non-medicated and can be used as often as needed without the worry of any harmful side effects or drug interactions.
– FSA- and HSA-eligible product in the U.S.
– Contains no alcohol and is drug- and preservative-free
Ratings
4.8 out of 5 – more than 7,900 global ratings
Little Remedies Sterile Saline Nasal Mist Reviews

Love this product for our 9mo old who has her momma's allergies. We previously used the same brand but with the drops application packaging for newborns and the spray is much easier to use now that she's a bit older— our pediatrician recommended it and I'm glad we swapped over. Highly recommend.
2. Xlear Kid's Nasal Spray with Xylitol
Buy on Amazon
– Natural Saline Solution & Nasal Rinse:

Our nasal saline spray will gently clean and moisturize the sinus tissues. Unlike other normal saline nasal sprays our spray also acts as a nasal decongestant by targeting the primary causes of nasal congestion. Our nose spray will help reduce tissue swelling from pollen, pollution, bacteria and all other irritants.
– Kid Safe Nasal Rinse & Spray:

Our all natural nasal cleaner is safe for kids, drug-free, non-addictive, Non GMO Project Verified and is effective without the use of steroids, drugs or chemicals. It's the ideal daily sinus medicine that will reduce swelling and open your airways. Use our saline nose spray before bed to help reduce snoring.
– Improved Formula With Xylitol:

Our patented saline nasal spray solution reduces tissue inflammation and naturally opens airways. Xylitol's powerful oral and upper respiratory health benefits come from its unique five-carbon structure. Xylitol helps to reduce swelling and allergy symptoms by reducing bacterial adhesion on you nasal tissue.
– Easy to Use Directions:

Clear the nasal passageway by gently blowing your nose before using Xlear. Prime the pump by holding the sinus rinse bottle upright and pumping one or more times until the saline solution is dispensed. Insert nozzle into nostril and depress pump completely while breathing in through your nose. Spray each nostril 2-4 times and use at least twice daily.
– Fast Sinus Pressure Relief:

Our natural saline nasal spray will wash away pollutants and help to bring relief to chronic sinus infection. Use our sinus spray daily to protect and keep your nasal passages clean. Each 0.75 fl oz bottle can also be used as drops for children.
Ratings

4.7 out of 5 – more than 700 global ratings
Xlear Kid's Nasal Spray with Xylitol Reviews

A health foods store worker pointed me to Xlear when I was looking for a natural decongestant for my baby. I haven't been without a bottle or two or three, since. My child continued to catch colds as a toddler but no more ear infections and antibiotics needed ever again. I administer liberally every few hours while congested, and it clears up congestion and allows him to breathe easily and sleep the night away. This product seems to me to foster faster recovery and has, I believe, even banished a fever (I suspect from ear infection) overnight without the use of fever reducers.

3. AYR Baby Saline Nasal Spray/Drops
Buy on Amazon
– ayr saline nose spray
– drops for baby moisturizes
– soothes sore chapped noses.
– alcohol free
AYR Baby Saline Nasal Spray/Drops Reviews

Love this spray. I was given a bottle at the hospital where my daughter was born and I have been using it ever since. Makes it very easy to clean her nose and keeps it moist too. Highly recommend
4. Neilmed PediaMist Pediatric Saline Nasal Spray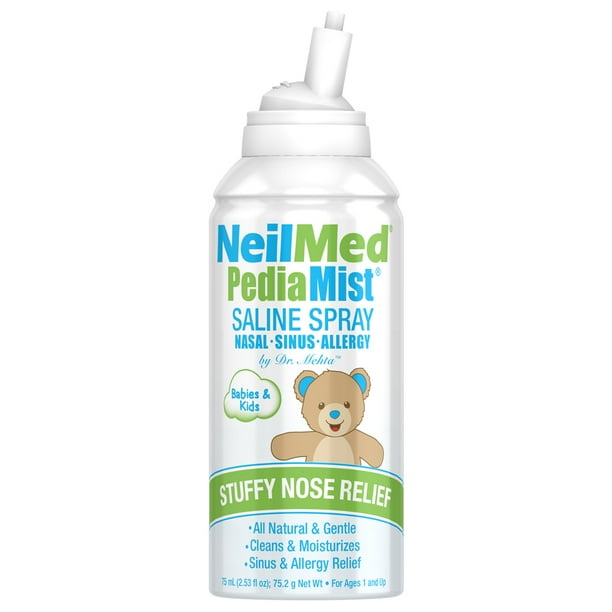 Buy on Walmart
Stuffy Nose Relief
– nasal allergies and dryness
– sinusitis, rhinitis, allergic asthma, post nasal drip
– sinus pressure and nasal congestion
– nasal symptoms from flu and cold
– nasal irritation from occupational and house dust, fumes, animal dander, grass, pollen, environmental pollutants and smoke
Neilmed PediaMist Pediatric Saline Nasal Spray Reviews

Great product! My son always has a stuffy nose and this stuff really helps to keep his nose clear. Thank you NeilMed for an awesome product.

5. Zarbee's Naturals Soothing Saline Nasal Mist with Vitamin C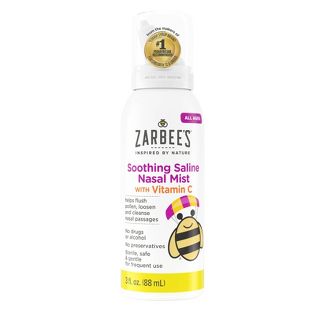 Buy on Target
– soothing mist helps cleanse and sterilize nasal passages
– contains vitamin c for its antioxidant benefits
– simple formula is safe for frequent use
– free of drugs, alcohol, dyes, gluten and artificial flavors
– powerful ingredients like dark honey, elderberry & agave are the backbone of zarbee's products
Zarbee's Naturals Soothing Saline Nasal Mist with Vitamin C Reviews

With seasonal allergies coming up we needed a nasal spray on the go and it definitely works. The suction power is enough to clean and moisturizer the nose of my little one. He sneezed all the boogers away and breathes better.
6. Flonase Sensimist Allergy Relief Nasal Spray Non-Drowsy Allergy Medicine for Kids
Buy on Amazon
Flonase children's sensimist is formulated and safe for children 2 to 11 years old. Adult flonase sensimist is formulated for adults and children 12 years of age and older. Unlike most allergy pills, flonase sensimist is a multi-symptom 24 hour allergy medicine providing powerful nasal congestion, sneezing, itchy nose, itchy eyes, watery eyes and runny nose relief
– allergy nasal spray delivered as a fine, gentle mist with no aftertaste, no odor and virtually no dripping
– each product has an ergonomically designed bottle to fit the noses of kids or adults
– non drowsy allergy relief formula gives kids or adults more complete relief against all their allergy symptoms to keep them energized
– nasal decongestant allergy medication for indoor, outdoor, year round and seasonal allergy relief
Flonase Sensimist Allergy Relief Nasal Spray for Kids Reviews

Works great for my kids allergies. The bottle is easy enough to use that my squimish kid can spray it himself. I do wish there was an easier way to tell of the dose has been sprayed.
7. Vicks Sinex, Children's Saline Nasal Mist, with a Hint of Aloe, Ages 1+, Drug-Free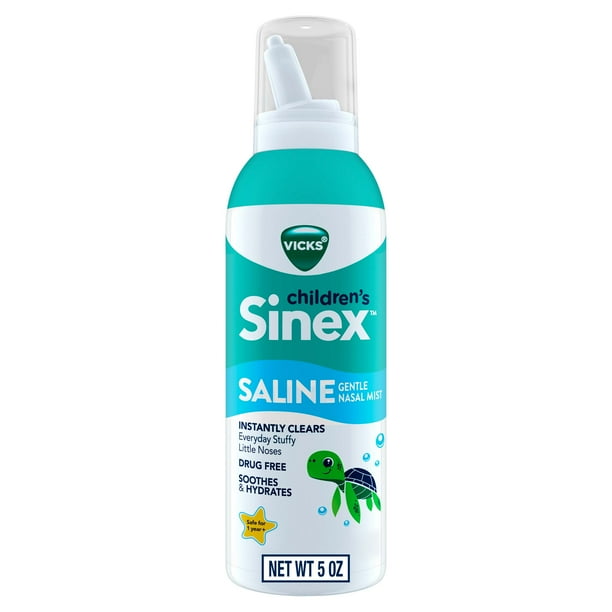 Buy on Walmart
Gently and instantly clear everyday stuffy little noses! Designed for little noses with a lower pressure*, sterile saline mist. Drug free & no added preservatives. Safe for daily use, ages 1+.*compared to adult vicks®sinex™ saline nasal mist
Dosage
For children ages 1 year and older:insert applicator tip into nostril. Briefly press down on applicator base to flush out mucusremove applicator, blow or wipe nose (as needed)repeat with other nostril. Safe for daily use as often as needed.
Vicks Sinex Children's Saline Nasal Mist Reviews

My nephew has allergies and he gets pretty nasally. It took him a bit to get use to the idea of this going up his nose but after a few tries, he started to really like it because of the relief it provides and quickly. It helps him a lot and it's gentle when spraying.

8. Boogie Mist Natural Saline Mist For Stuffy Noses, Non-Medicated Fresh Scented Nozzle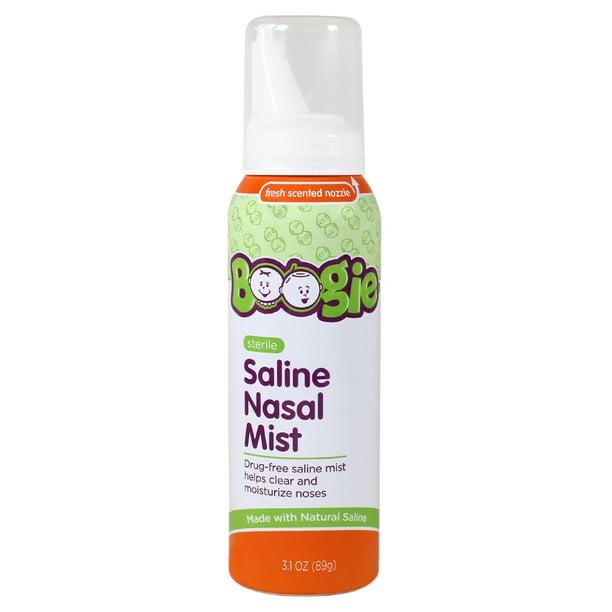 Buy on Walmart
– Helps Clear and Moisturize
Boogie Mist Saline Nose Mist helps moisturize dry, irritated, stuffy noses and flush dust, dirt, and pollen from nasal and sinus passages
– Natural Saline Formula
Non-medicated sterile saline mist is natural, hypoallergenic, and works quickly inside the nasal cavity to ease congestion.
– Gentle for Kids
Gentle, kid-friendly saline mist is an easy-to-use alternative to saline spray or drops. Moreover, it is also gentle enough to use as often as needed everyday or when cold, flu or allergy symptoms are at their worst
– Scented Nozzle
No fragrance is added to the natural saline formula but comes with a fresh scented applicator tip that kids love.
FAQs
a. Are Nasal Sprays Safe For Children?
The American Academy of Pediatrics (AAP) advises against giving children over-the-counter cough and cold medicines. Instead, it suggests saline nasal sprays, as well as a variety of other safe treatment modalities.
Saline nasal drops or saline spray are commonly thought to be safe for children. Calpol saline nasal spray is an example of a widely used brand. However, before using any saline nasal spray, you should visit a doctor.
Children under the age of six should not use oxymetazoline nasal sprays unless they have been prescribed by a doctor. The spray should also be used according to the doctor's instructions.
Nasal sprays for children are often prescribed as a single dose per day.
You May Be Interested In…
Zinc 101: What You Need to Know