Best Hydrogen Water Malaysia 2023: Price, Reviews and Buyer's Guide
Ever wondered how much does it cost to buy a hydrogen water dispenser and product in Malaysia? Find out the reviews and hydrogen water prices below.
Following the landmark publication in Nature Medicine in 2007, many other studies regarding the potential application of hydrogen therapy on various conditions were subsequently published.

Since the Japanese discovery, the effects of hydrogen have been researched in 63 diseases [Ref] and hydrogen therapy related products are growing rapidly all over the world as we speak.
Sugawa Hydrogen Rich Water Purifier Price in Malaysia: RM 5998 (2017)
VWA Hydrogen Water Malaysia | Hydrogen Water Generator Malaysia

VWA® Cellular Functional Water® System (water ionizer from Korea) turns tap water into antioxidant water in the industry, with dissolved molecular hydrogen (1600ppb) and –ORP values (-ORP998mV) to deliver remarkable anti-aging and anti-inflammation properties, prevent and reverse all kinds of degenerative diseases!
VWA Water Ionizer

VWA H2cap plus (Hydrogen Water Generator)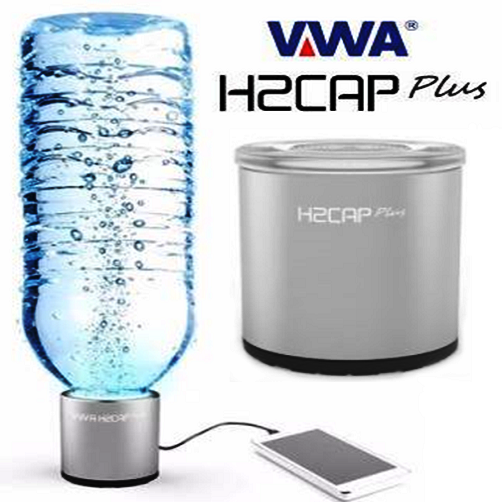 View on Lazada Malaysia
The VWA H2Cap Price in Malaysia (portable hydrogen water generator) is RM 938.
VWA H2CAP Plus is compatible with almost every water bottle sold in the market. All you need to do is to get a bottle of water and enjoy!
Idrogen Malaysia Price
Idrogen Portable: RM 2000
IDROGEN Portable has patented Proton Exchange Membrane (PEM) cell capable to infuse pure molecular hydrogen gas into water. The device comes with 2 adapters sizes (22mm & 24mm) to fit a wide range of screw top bottles.
PEM cell in this device has a rating of 10,000 cycles. The PEM cell comes with a performance guarantee.
IDROGEN Sdn Bhd offers a TWO (2) years warranty that the device will generate minimum of 1.0ppm of dissolved hydrogen. In the event your device fails to meet this minimum assured level of hydrogen output, IDROGEN Sdn Bhd undertakes to service or replace your unit.
(Effective June 1, 2018: Selling Price is no longer subject to GST)
Source:
https://shop.idrogen.my/product/idrogen-portable/
Idrogen Dispenser Type A: RM 6,000
Idrogen Twin Bundle: RM 7,000
Izumio Drinking Water Price in Malaysia
IZUMIO is the
No. 1 bestselling product in the hydrogenated water market in Japan
. In 2017, the cumulative shipping volume of IZUMIO exceeded 230 million units, attesting to its worldwide popularity.
Current retail price in Malaysia: MYR 440 / carton (30 packs).
Do ensure that you purchase your Izumio from official distributors in Malaysia. Beware of imitation goods.
You can purchase Izumio hydrogen water from an authorized distributor in Malaysia. For more information, please feel free to WhatsApp:
+6012 271 1445.
Is Hydrogen Water same as Alkaline Water?

Marketers claim alkaline water can correct excess acidity in your tissues, which can then prevent or reverse cancer, arthritis and other degenerative diseases. However, there's virtually no good evidence to support such claims. Most of the alkaline water studies were poorly designed.

One of the key reasons why the consumption of alkaline water cannot confer the health benefits associated with alkalinity is because you cannot alter the pH of your blood and body this way. The instant the alkaline water hits your very acidic stomach, the pH is neutralized as there are no buffers. This is basic human physiology 101.

Hydrogen water, on the other hand, when consumed on a daily basis, has wide-ranging health benefits.
Next Step?
Overwhelmed and confused over all these hydrogen water products in Malaysia? If you are in doubt on which and where to buy genuine hydrogen water products in Malaysia, you can contact us:
+6012 271 1445.