Benefits of Taking Chlorella and Spirulina Together
Spirulina and chlorella become increasingly popular in the supplement market as many studies have showed that these algae offer many health benefits such as lowering heart disease risk factors, improving blood sugar control, anti-cancer effects, and many more.
What Nutrients Are in Chlorella and Spirulina?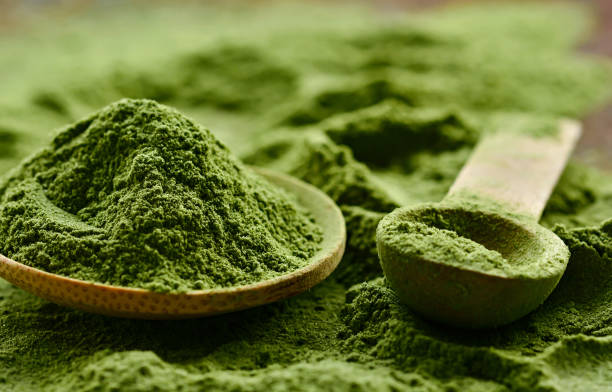 Spirulina and Chlorella are abundant in protein. Protein takes longer to break down in the body than carbs, therefore it provides a longer-lasting energy source. They also contain Vitamin A, Vitamin B, Magnesium, Iron, Phosphorus, Zinc and Copper.
Benefits of Taking Chlorella and Spirulina Together
i. Chlorella and Spirulina are Great Antioxidant
A study
found that chlorella supplementation resulted in the conservation of plasma antioxidant nutrient status and improvement in erythrocyte antioxidant enzyme activities in subjects.
Another study
also found that antioxidant status and lipid profile of Chronic Obstructive Pulmonary Disease (COPD) patients are proven to be improved through an interventional 2 months course of spirulina. Oxidative stress is shown to be reduced as a result of spirulina intervention.
ii. Chlorella and Spirulina for Detox
Both algae have been shown to be successful in detoxification; they may be used in high dosages for heavy metal detox, binding toxins and purging them from the body, frequently without the usual detoxification side effects.
iii. Chlorella and Spirulina for Weight Management
Both Chlorella and Spirulina can be used for weight loss.
Chlorella may have an effect on how fat cells behave in the body, therefore it may help with weight loss. Whereas, spirulina may help with adherence to restricted-calorie diet, weight loss management, and triglyceride reduction via modulating anti-inflammatory pathways.
iv. Chlorella and Spirulina May Have Anticancer Effects
A study
showed that chlorella vulgaris may have anti-cancer effects by inducing apoptosis signaling cascades via an increased expression of P53, Bax and caspase-3 proteins and through a reduction of Bcl-2 protein, which subsequently lead to increased DNA damage and apoptosis.
Another study
also suggests spirulina may have anti-cancer properties. A first report of the in vivo chemopreventive effect of Spirulina platensis against dibutyl nitrosamine(DBN)-induced rat liver cytotoxicity and carcinogenesis, suggesting its potential use in chemoprevention of cancer.
v. Chlorella and Spirulina for Hair Growth
Spirulina can promote hair growth and treat hair problems such as baldness and thinning hair. Spirulina is high in amino acids, essential fatty acids, vitamin A, and beta-carotene, which are all beneficial to hair.
Not only spirulina, chlorella also has a lot of nutrients that improve hair health. While some aid to prevent hair loss, others help to promote hair growth and make hair look shiny and thick. For instance: Chlorella contains selenium. Selenium is a trace mineral that helps the body clean up free radicals and produce anti-oxidants by interacting with enzymes and organs. All of these function contribute to a healthy hair growth cycle.
vi. Respiratory Health
Chlorella for Asthma and Chronic Obstructive Pulmonary Disease (COPD)
A study examining the effect Chorella Vulgaris extract (CVE) on the severity of clinical symptoms of asthma and COPD, found that the rate of improvement in the severity and frequency of sputum brought up and wheezing was significantly greater in the CVE group compared to the control group. (
Source
)
Spirulina for Chronic Obstructive Pulmonary Disease (COPD)
A study
has concluded with the antioxidant status and lipid profile of COPD patients are proven to be improved through an interventional 2 months course of spirulina. Oxidative stress is shown to be reduced as a result of spirulina intervention.
Best Spirulina and Chlorella Supplement
1. Vimerson Health Spirulina Chlorella Green Superfood Capsules
Buy on Amazon
– Benefits of Taking Spirulina and Chlorella Together for Cardiovascular Disease:

Vimerson Health's Spirulina Chlorella supports cardiovascular health and oxidative balance within the body;* Helps maintain overall health and healthy lifestyle, in addition to assisting the detoxification processes within the body; * Assists in maintaining your optimum health;* Enhances energy and supports your mood*
– Combined Power of Algae:

Spirulina & Chlorella are 2 of the oldest known food sources on Earth; As 2 nutrient rich types of algae they provide several health benefits to your body; These majestic plants work in symbiotic tandem to support the body's natural cleansing process; may improve gut health* and in addition can play an important role in mental wellbeing maintenance, as it contains an amino acid that supports the production of seratonin in the brain*
– Safety First:

Each batch we produce is packed with love and real ingredients for real results; Vimerson Health's Spirulina & Chlorella is formulated safely and gently with no dangerous extraction processes or harsh chemicals; It contains zero soy, sugar, GMOs, gluten, and dairy; You're getting more goodness per capsule than anyone else
– Vegan, Gluten Free, Non-GMO:

This, and all our products, are manufactured in the USA meeting GMP standards; Here at Vimerson Health we select only the highest quality herbs, minerals and vitamins for optimal potency and efficacy.
Ratings
:
4.6 out of 5 – more than 450 global ratings
Vimerson Health Spirulina Chlorella Green Superfood Capsules Reviews

These supplements are great, I don't really take them for energy although it does help a lot. I find it helps my overall health 100%. I use to get toe nail fungus, no matter what medications doctors put me on I lived with it for years. Once I started taking Spirulina & Chlorella it has cleared right up and so healthy. My body PH is much better, acid reflux hardly ever bothers me. I am very satisfied with this product.
2. Micro Ingredients Organic Spirulina and Chlorella Supplement
Buy on Amazon
2 Pack Maximum Strength USDA Organic Spirulina and Chlorella Mini Tablets 675 Counts Each, Non-GMO and Vegan Friendly, Product of Taiwan.
– supports energy, colon health, digestive function and immune system.
– rich in chlorophyll, proteins, all essential amino acids, fatty acids, vitamins, minerals and dietary fiber.
– no gmos, no additives, no preservatives, no artificial colors, no flavors, no fillers and no gluten
How to take spirulina and chlorella supplement:
Scoop included to get the measurement every time. Take it daily with or between meals by adding it to a shake or smoothie, see what the most nutrient dense food on the planet is all about.
Ratings:
4.5 out of 5 – more than 150 global ratings
Micro Ingredients Organic Spirulina and Chlorella Supplement Reviews

Spirulina is great for boosting energy, detoxes heavy metals, lowers blood pressure, and helps greatly with weight loss after finding these tablets made it even easier to take than powder
3. Nested Naturals Super Algae Spirulina and Chlorella Capsules
Buy on Amazon
– Organic Superfoods:

Spirulina is a blue-green algae superfood that is dense in protein, iron and phytonutrients. Chlorella is a green algae that helps the body eliminate impurities, supports digestion and helps maintain the friendly bacteria in the gut.
– Boost Energy:

The chlorella in super algae is naturally rich in a biologically active form of energy-boosting vitamin b12. Chorella also supports healthy levels of red blood cells in the body.
– Seasonal Allergy Relief:

Chlorella and spiralina promote a healthy response to seasonal allergens. Preliminary research shows that spirulina may aid when you are experiencing mild sniffling, sneezing and watery eyes during hay fever season.
– Socially Conscious Supplements:

Our super algae is dairy-free, soy-free, egg-free, nut-free, corn-free and gluten-free. It contains no barley, yeast or sugar. It is manufactured in our gmp & nsf certified facility and third-party tested for quality assurance.
Ratings
:
4.6 out of 5 – more than 320 global ratings
Nested Naturals Spirulina Chlorella Supplement Reviews

Organic, vegan, Vitamin Angels, all things I look for. I love Super Algae. From price to quality, it is a great purchase. Ancient and life sustaining, I notice a positive difference, starting with more energy; but I find emotionally, it is important knowledge to carry throughout our day that we've taken something natural, healthy, and what our bodies crave instead of synthetically-manufactured components that our bodies do not recognize. Great product.
4. Sunfood Spirulina and Chlorella Tablets
Buy on Sunfood.com
Spirulina & Chlorella Tablets are a 50/50 blend of two potent superfoods. Spirulina and chlorella complement each other perfectly, with an assortment of vitamins and minerals. This powerful green superfood combination aids the body in maintaining optimal health, and daily consumption is recommended for strengthening and elevating your body's nutritional profile.
How much chlorella and spirulina should i take?
Take 3–4 tablets 3 times per day. Swallow with water, blend into smoothies or eat out of the bag.
Ratings:
4.6 out of 5 – more than 320 global ratings
Sunfood Spirulina and Chlorella Tablets Reviews
These little tablets are very easy to swallow. I have built up to 12-16 a day to help raise my pH level from being so acidic. I used to just use lemon juice but these have boosted my number. I used to use liquid chlorophyll; what a mess. I used to have Lyme plus 9 other virus'/bacterial. Now that I am totally clean, I use these to keep my pH high. Very little can thrive in a high oxygenated (pH level) environment. I will be on this to help keep my blood clean indefinitely.
5. ACTIF 100% Ocean Cleaned Organic Chlorella and Spirulina Supplement
Buy on Amazon
The only 100% ocean cleaned, organic chlorella spirulina, made in the USA. Brought to you by ACTIF — the leader in organic supplement products. ACTIF ocean cleaned organic chlorella and spirulina was voted the best supplement for vegan and detox diet in 2022 by clinical doctors.
Super algae tablets spirulina and chlorella benefits:
Full array of micro and macro nutrients including all essential amino acids, vitamins b1, b2, b6, and b12, magnesium, iron, zinc, healthy fats and vitamin a (beta-carotene). The two algae complement each other perfectly, containing antioxidants (carotenoids) and anti-inflammatory compounds to boost immunity, while simultaneously working to detoxify and alkalize the body.
– 500mg of cold pressed organic chlorella and organic spirulina from US pacific coast
– cold-pressed from pure chlorella and spirulina without any additive. We use broken cell wall chlorella and spirulina fresh and cleaned from ocean source
– tested zero for all heavy metals and contaminants
Ratings:
4.4 out of 5 – more than 175 global ratings
ACTIF Organic Chlorella Spirulina Tablet Reviews
Great product. Started taking for health issues, to detox mercury and candida. I noticed increased energy and also improvements in hair and skin. It is loaded with vitamins and minerals including MSM (sulfur) which is great for infections. Well worth the price.
FAQs
a. How Much Spirulina and Chlorella Should I Take?
The normal daily dose of spirulina powder is 1-3 grams, however up to 10 grams has also been used successfully. The typical daily dose of chlorella is 3-5 grams or 10-15 300mg tablets.
However, before taking chlorella and spirulina supplement, best to read dosage recommendation on your supplement's label. And if you unsure and have underlying condition, best to consult a doctor for determining the right dose.
b. Who Should Not Take Chlorella and Spirulina?
Who should not take chlorella?
Warfarin and other blood-thinning medications may have a tougher time working if you eat chlorella.
Iodine allergies should avoid chlorella supplements since some of them include iodine. Best to inform your doctor about any supplements you are taking.

Who should not take spirulina?
– Autoimmune disease
Multiple sclerosis (MS), lupus (systemic lupus erythematosus, SLE), rheumatoid arthritis (RA), pemphigus vulgaris (a skin ailment), and others are autoimmune illnesses. The immune system may become more active as a result of blue-green algae, which might worsen the symptoms of auto-immune diseases. It's advised to avoid utilizing blue-green algae if you have one of these diseases.
– Surgery
Blue-green algae may reduce blood sugar levels during surgery. Best to stop using blue-green algae at least 2 weeks before a scheduled surgery.
– Thin blood / bleeding condition
Spirulina has an anticoagulant effect, which means it thins your blood and makes it take longer for blood to clot. If you have a bleeding condition or are using blood thinners, you should avoid spirulina.
Related Articles
Chlorella vs Spirulina vs Chlorophyll vs Chlorophyllin