High Protein Milk Powder for Adults 2022
Milk has abundant of vitamins and minerals. It is one of the healthiest foods that is most frequently consumed worldwide. Milk is also emphasized as a significant source of bioactive peptides and a source of high-quality proteins. Research indicates that milk's proteins may have anticancer effects, antihypertensive properties, immune system modulation, and other metabolic features.
Whey and casein are the two main milk derivatives available to those who want milk proteins. Let's dig deeper, what's the differences between these two types!
Whey vs Casein Protein
Whey is the "faster" protein because its amino acids are quickly absorbed by out body. As a result, it serves as a good source of protein for a pre- or post-workout snack. While casein is the "slower" protein since it's digested more slowly. Therefore, people might choose to consume casein before fasting or sleeping.
Milk Protein Benefits
a. Anticarcinogenic Effects
Numerous studies indicate that milk proteins, particularly whey proteins, may protect the body against certain cancers (colon, breast, and prostate gland). This protection is likely due to their ability to boost cellular glutathione levels and to support hormonal and cell-mediated immune responses..
b. Immunomodulatory Effects
Milk whey proteins have been shown in numerous in vitro and in vivo studies to have a positive impact on immunological responses.
In cancer patients, prescription of whey protein (30 g daily for 6 months) has been demonstrated to normalize the number of blood leukocytes (
Source
). Also, supplementation with whey protein has been reported to increase plasma glutathione levels and natural killer (NK) cell activity in patients with chronic hepatitis B (
Source
).
c. Weight Management
i. May Reduce Hungger and Appetite
Ghrelin is an orexigenic hormone that induces food intake by increasing hunger, and its plasma concentration is decreased by protein intake. Studies found that liquid preloads containing protein rather than glucose significantly suppressed ghrelin release.

In conclusion, dietary protein elevates GLP-1, CCK, and PYY levels, which are secreted in the gut and diminish appetite while also decreasing ghrelin levels, which increases appetite. Such changes in the release of satiety hormones constitute an important mechanism of HPD-induced weight loss. (

Source

)

ii. May Promote Lean Body Mass and Reduce Fat Mass


Protein shakes may temporarily boost your metabolism. It can also help you gain muscle, particularly if you follow it with strength exercise and a low-calorie diet.

A study

showed that consumption of a diet with higher protein was more effective than consumption of a diet with lower protein in promoting increases in lean body mass and losses of fat mass when combined with a high volume of resistance and anaerobic exercise.
High Protein Milk Powder for Adults
1. Ghost Whey Protein Powder
Buy on Amazon
– Versatile and Delicious AF

GHOST WHEY protein combines a premium, fully disclosed whey protein blend, a few natural digestive enzymes, and out-of-this-world Peanut Butter Cereal Milk flavor. 26 servings.
– 26g Whey Protein

Every scoop of GHOST Peanut Butter Cereal Milk Whey contains 26G of pure, fully disclosed whey protein. Flip the tub around for a breakdown of exactly how many grams of whey protein isolate, concentrate, and hydrolysate are in every scoop.
– Soy and Gluten Free

While most brands use soy lecithinated whey protein, we opted to use only sunflower lecithinated whey protein. Why? For starters, soy is one of the common allergens on the market today. Additionally, soy contains phytoestrogens that mimic the body's natural estrogen hormones, which isn't great for anyone. And ZERO gluten. Enough said.
– Total Transparency

All GHOST products feature a transparent label that fully discloses the dose of each active ingredient. Zero proprietary blends means you know what you're getting in each and every scoop.
Ratings
4.5 out of 5 – more than 1,750 global ratings
Ghost Whey Protein Powder Reviews

I usually don't get the proteins that don't taste like chocolate, cuz even with vanilla the protein flavor sticks out too much. But this product, the cereal milk flavour, tastes absolutely amazing. The protein quality is good, and it's low fat and carb.

2. Muscle Milk Pro Series Protein Powder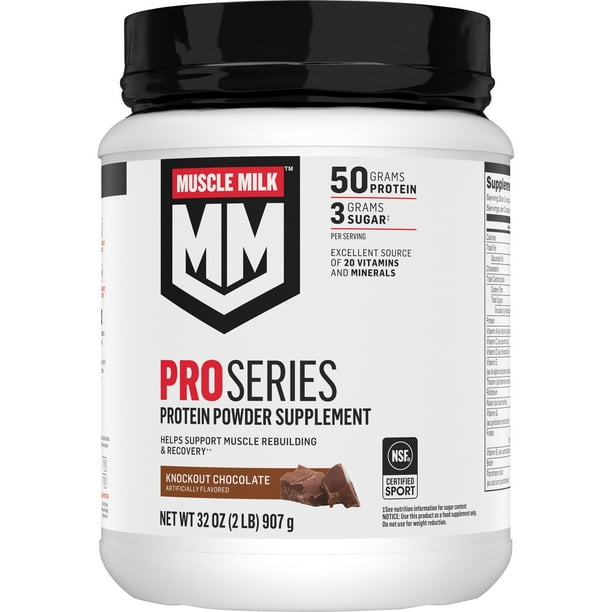 Buy on Watson
– Helps Satisfy Hunger and Build Muscle

Muscle Milk Pro Series supplies your body with high quality protein to support post-workout recovery and muscle growth and maintenance. Try taking it to-go in a shaker bottle for energizing on-the-go nutrition.
– Key Features

Based on 1 serving, Muscle Milk Pro Series Protein Powder contains 50g high-quality protein, 3g sugar, and an excellent source of 20 vitamins and minerals.
– Versatile and Easy to Mix

Muscle Milk Pro Series dissolves easily in water; just mix 2 scoops into 10-16 fluid ounces of water using a shaker bottle. Shaker bottle sold separately.
– High Quality and Tested

Muscle Milk Pro Series provides a blend of high-quality slow releasing and fast releasing proteins to help increase amino acid levels. These essential amino acids play a role in muscle growth and maintenance of muscle mass. Muscle Milk Protein Powders are NSF Certified for Sport. NSF screens for more than 270 substances
Muscle Milk Pro Series Protein Powder Reviews

I started drinking milk with one scoop every morning in 2017. My hair and nails have never been healthier in my life!! I noticed the difference after using this product for about 4 months. The panel of amino acids was just what I was looking for! I tried a collagen based protein drink, that was twice the cost, and I started losing hair and getting brittle nails again. I switched back to this product after 3 weeks. Within one and a half weeks, my hair and nails started to get stronger again. I'm so glad my husband suggested this product for me. It has changed my body from the inside out for the better!
3. Pro JYM Protein Powder - Egg White, Milk, Whey Protein Isolates & Micellar Casein
Buy on Amazon
– Isolate Blend

Scientific studies have shown that a blend is considerably better for maximizing muscle-build than standard whey protein alone, this blend contains whey protein isolate, micellar casein, milk protein isolate, and egg white protein.
– Great Taste

No other protein powder surpasses the great taste, texture, and nutrition of Pro JYM. Simply mix with water, milk, almond milk or add other ingredients for a delicious high protein shake or smoothie. It also comes in chocolate and vanilla.
– Perfect Ratio

Pro JYM contains the clinically tested ideal ratio of the three optimum proteins for building muscle: 50% casein, 40% whey and 10% egg protein. For both men & women, this blend supports your natural strength, energy, endurance & recovery.
– No Spiking

Pro JYM does not include cheap amino acids that can lead to protein spiking. Each serving contains 24 grams of whole proteins, it is optimal for lean muscle growth, as a higher percentage of calories are derived from the protein.
Pro JYM Protein Powder Reviews

I tried this out as my nutritionist mentioned I could have whey isolate and that it would bother my stomach.
He suggested a different brand but it was out of stock so I crossed all my fingers and gave this a go. I have been using it for a month everyday and I have had no concerns. If you are lactose intolerant this should work for you. The price seemed high but it's a large tub so it's not too bad

4. Vital Performance Protein Powder, 25g Lactose-Free Milk Protein Isolate Casein & Whey Blend
Buy on Amazon
– Combines 25g Protein and 10g Collagen

By combining lactose-free milk protein isolate with collagen peptides, Vital Performance Protein Powder delivers 25g of complete protein designed to complement your fitness routine.
– Why We Can Say 'Lactose-Free'

The process of milk → milk protein concentrate → milk protein isolate → lactase enzyme helps to further reduce the lactose content. Excellent supplement for lactose-intolerant and active lifestyle consumers, looking to boost their daily intake of complete, high-quality protein and collagen.
– High Quality

Dairy proteins are high-quality proteins, due to their EAA content and digestibility. Our milk protein isolate delivers the same casein to whey ratio (80:20) as milk. It provides a robust amino acid profile to support muscle protein synthesis and improved recovery.**
– Versatile Collagen

10g of Collagen, sourced from grass-fed, pasture-raised bovine hide. Digested and absorbed by the body quickly for maximum benefits. Helps promote healthy bones, joints and tendons.**
– Anytime Protein

When you want to boost your protein and collagen intake throughout the day, this protein powder is ideal for both post-workout recovery and anytime nutrition**. Blend 2 scoops into cold water or into your favorite smoothie recipe. If you want to boost the leucine content > 2.5, consider 3 scoops per day.
Ratings

4.4 out of 5 – more than 2,730 global ratings
Vital Performance Protein Powder Reviews

I have a lot of trouble digesting whey and soy protein, so this lactose-free milk protein isolate is one I can finally use. I got the coffee flavor, which has some caffeine in it so it's perfect in the morning and for that mid-afternoon slump. I'm trying to boost my daily protein intake so am also ordering the bars from this company, to take along when I'm out.

5. Naked Goat - 100% Pasture Fed Goat Whey Protein Powder
Buy on Amazon
– Only One Ingredient

100% Grass Fed Goat Whey Protein with no additives. Naked Goat contains no artificial sweeteners, flavors, or colors and is GMO Free, Growth Hormone Free, Soy Free and Gluten Free.
– All Natural Goat Whey Protein

Our Pasture Fed Goat Whey is sourced from small dairy farms in Wisconsin to bring you non-denatured goat whey packed full of essential amino acids, clean protein and glutathione.
– Maximum Nutrition

23g of Protein, 1g of Sugar, 2g of Carbs, 110 Calories, and 4.6g of BCAAs (branched-chain amino acids) per serving.
– Acid Free and Bleach Free

Unlike most whey protein powders, Naked Goat is manufactured using acid and bleach free processing; ensuring you a get high-quality, chemical-free protein.
– Cow's Milk Protein Alternative

Smaller fats in goat milk are easier to digest, making Naked Goat a great alternative to cow whey for milk-sensitive individuals or those allergic to lactose in cow's milk.
Ratings
4.4 out of 5 – more than 550 global ratings
Naked Goat Whey Protein Powder Reviews
This stuff is amazing. Seriously.
I've been using protein powder as a supplement for years. As time went on I developed a sensitivity to lactose and I could no longer use whey, or even hydrolyzed whey isolate. I tried a bunch of veggie based powders, but would get a tremendous amount of bloat and puff.

I switched to Naked Goat, and I've been using it for about 3 weeks consistently, and have had none of the typical negative side effects I've had from other protein. This stuff tastes great, mixes well and is allowing me to supplement again without any gastric distress.

If you have any lactose issues and have bad luck with the veggie based stuff, give this one a go. I really like it and plan to keep using it for a long time. Definitely worth it.
6. Jay Robb Whey Isolate Protein Powder
Buy on Amazon
– The Real Whey

Jay Robb Whey Isolate Powder is a clean, delicious, and protein-packed way to promote your health goals.
– Build + Repair

Whey protein helps fuel the process to build new muscle faster and support metabolism.
– Nutrition Made Delicious

Nourishing your body is easy and outrageously delicious with flavors like vanilla, chocolate, strawberry, and more.
– Easy to Blend

Our easy-to-mix formula simplifies getting your protein on the run, in the gym, or at home
Ratings
4.6 out of 5 – more than 4,950 global ratings
Jay Robb Whey Isolate Protein Powder Reviews

This really is, on my opinion, the best tasting protein powder on the planet! I have tried others and keep coming back to J Robb. Through the 10 years I have been using these protein powders, J Robb has kept up the quality, ingredients, and flavor. And did I mention their excellent customer service? Today I spoke with Samantha, from customer service about a question I had with the unflavored whey powder. She was cheerful, precise, gave the information I wanted, and even provided a follow up call!

7. Six Star Casein Protein Powder
Buy on Amazon
– Casein Protein Powder

Six Star Casein Protein Powder is designed to feed your muscles the highest quality blend of protein available. Each serving delivers 26g blend of proteins taken from multiple sources with variable digestive rates
– Slow Absorbing Protein Blend

Six Star Casein is a premium blended protein formula that feeds your muscles for 8 hours, with high biological value and sustained-release protein. This makes it the perfect protein for any time of the day or night
– Protein Powder

Six Star Casein Protein supports protein synthesis by delivering incredibly high doses of BCAAs, glutamine and essential amino acids (EAAs)
– Muscle Recovery

Whey protein promotes rapid recovery from exercise and supports an insulinogenic response for improved nutrient delivery for men and women. Builds lean muscle, increases strength and enhances performance
Ratings

4.5 out of 5 – more than 2,950 global ratings
Six Star Casein Protein Powder Reviews

Great night-time protein powder
Good product in use. Taste is good. Casein is excellent quality protein (complete protein and highly bioavailable) and takes up to 7-hours to digest, compared with around 2 hours for Whey, 3 or so for eggs and meat, and up to 5 hours for Soy. I'm a dietitian, and Casein is the best protein for keeping you feeling satisfied at night and providing a source of amino acids for your muscles to keep repairing throughout the night. This is what I take in the last hour or 2 before bed if I want something to eat, often with a banana/apple and nut butter.
FAQ
a. Protein Powder Side Effects
Protein powders are considered safe, but if you consume a lot of it, you may experience digestive adverse effects.
Dairy-based protein powder may cause stomach distress, bloating, and gas if you are lactose intolerant or otherwise sensitive to lactose. Choose a plant-based protein powder instead, or try with whey protein isolate, which has a lower lactose content than other dairy protein powders.
Related Articles
Best Spirulina Supplement for Weight Loss
Best Black Seed Oil for Weight Loss
Best Vitamin D Supplement for Weight Loss